Eyecare In developing countries like Kenya, and many other African states remain one of the underfunded health sectors making it very expensive to access treatment.
However there has still been hope as private hospitals and clinics have stepped up and innovated to keep up with the pace and change of the revolving health demands and needs.
When Covid-19 struck in Kenya nearly all sectors received a beating as homes changed to workplaces and computers became the norm.
Nonetheless one sector that gained a lot of mileage from the pandemic was the eyecare business, as people started working from home and staying at home thus spent more time on their screens.
The new challenge required specialist Eyecare Facilities like the Panafrican Optician Lapaire Group to act first to save Kenyans.
Through their founder Jerome Lapaire a Swiss National, a lawyer by profession and entrepreneur at heart with a strong desire to develop innovative ideas that can have positive impact on the community, Lapaire Group has been running optical Shops operating across the continent.
We met the entrepreneur to understand what necessitated the need to venture into the optical industry in the continent.
Jerome says that after short stint in Hong Kong and London undertaking law, he moved to Nairobi, Kenya, in March 2015 and quickly joined an impact investment fund and then worked in a market research agency to better understand the African continent.
"After a few years, I wanted to reconnect with entrepreneurship, putting together my skills and ideas to bring something good to the local community. While working with Kenyans of which some had uncorrected refractive errors, I realized that access was the main problem in health services. Consulting an eye specialist and getting eyeglasses requires a lot of time and money, which most people cannot afford in Kenya," said Jerome
Inspired by his last name Lapaire meaning 'a pair of' in French, Jerome began his Kenyan entrepreneurship journey in February 2018, setting up a small team with 2 interns and launched Lapaire Glasses in Nairobi with an innovative concept and a big social impact.
After the first launch shortly afterwards the Optical Shop managed to catch the eye of a Venture Capital Fund, Saviu Ventures, who supported the growth and expansion of the clinics.
Lapaire Glasses is now one of the fast-growing companies revolutionizing eye care in Africa by providing free vision tests, top-notch customer service and affordable yet quality eyeglasses to everyone
The World Health Organization (WHO) indicates that globally, nearly one billion people have a vision impairment that could have been prevented or has yet to be addressed.
The WHO report further states that, over 550 million people need glasses but only one per cent wears them.
In Kenya, the Ministry of Health estimates that 7.5 million people are in need of interventions to prevent loss of vision, restore vision or need rehabilitation to improve performance.
The most common Eye Defect in Kenya is Myopia which is also known as Short Sightedness.
With these statistics Jerome says that it is crucial for Kenyans to know the status of their eyes before blindness strikes.
"Eyeglasses are able to correct and prevent a large number of vision problems, like myopia and presbyopia among others. They are the most accessible eye care equipment as this is the easiest equipment to use if you compare it with contact lenses, and the most affordable if you compare it with surgery (for myopia). Eyeglasses are for everyone, from kids to elderly people, it's a mass market product."
From single Optical Shop in 2018, the Lapaire Group currently operates 20 Optical Shops across Africa, with more than 150 employees, of which many are eye professionals such as Optometrists having managed to carry out over 60,000 vision tests across the continent.
With an ambition to be The Go-To Eyewear Brand in Africa, Lapaire is planning to open more clinics across the continent focusing on major cities before venturing into the rural areas.
"Ideally, one should be able to get Lapaire eyeglasses without covering more than 30 minutes of transportation. Hence, this leaves us some work to do. Once our network will be more solid in the main cities, we'll definitely look at more secondary cities where we could expand soon in order to offer our services in other regions," he added.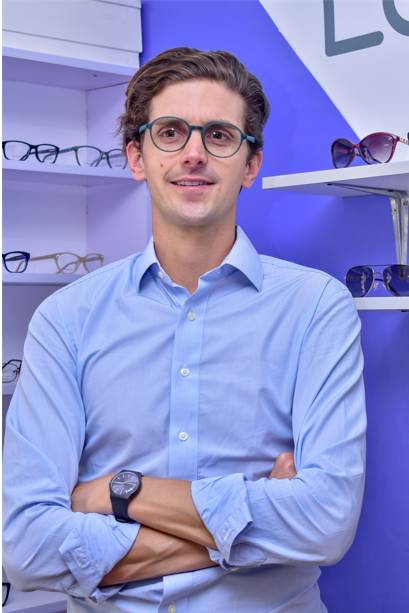 Before growing its presence internationally Lapaire is planning on expanding more in the countries they are already operating in Across Africa.
Alongside the Nairobi CBD Flagship Store located at The Avenue House, On Banda Street Right Opposite Nation Center Building, The Group is planning on opening branches in multiple strategic locations within the city and also some in other cities in Kenya to be accessible to more people.
Growth Plan
In Uganda, we shall be opening new stores in the Kampala region, as well as other cities in the northern part of the country in order to grow our national network.
In the next month, we shall also be opening optical shops in West Africa: 2nd shop in Lomé in Togo, 3rd shop in Abidjan in Côte d'Ivoire, 2nd shop in Ouagadougou in Burkina Faso.
A second shop in Bamako (Mali) and Cotonou (Benin) should follow in the first quarter of 2022.
Innovation
To meet the rising need for constant innovation in a dynamic world, Jerome says the group spends a good amount of time raising awareness about eyecare, eye problems and eyeglasses.
"First of all, we are not only an Optical company, our mission is to provide eyeglasses to "everyone" but to make everyone aware about their potential eye problems. We don't only sell frames and lenses, we also provide information about eye health, at no cost" he added
We propose affordable yet quality eyeglasses starting from KES 3,400 (inclusive of frame and lenses), with installment plans in order to adapt to people's available budget. Our prices are completely transparent, with no hidden costs.
Like many other businesses the story of Lapaire has not been an easy sail, He says that When the covid-19 pandemic hit the African continent, we had to face lockdowns in Kenya and Uganda particularly), it was difficult times especially because to conduct vision tests one needs to see customer's in-person.
Jerome says that through his entrepreneurial life he's had to make difficult decisions regarding our development strategy as well as he wanted to export the concept quickly in the region but at the same time, it was essential to gain in notoriety to make the expansion a success
Despite challenges like political instability like in Mali or Burkina Faso Lapaire has managed to work with this reality.
Matching the right people with the right roles has helped driving the expansion across Africa locations in a short period of time
Also Having to face off with international Optical brands like Afflelou in West Africa and Optica in Kenya, that provide expensive eyeglasses for people having an insurance subscription, they have had to be innovative to challenge the traditional competitors who benefit from a strong network of branches.
"To kick the competition, we bet on a fast expansion across Africa, a strong awareness campaign to educate our communities and the power of connected services and social media to spread the word."
Betting on free consultancy, Vision tests and cheaper rate than the current market price, Lapaire have developed simple and accessible offer that can match the needs of a large number of people: targeting the D-class up to A-class.
The move now means people without a medical cover go the Optical Clinic to get vision tests for free and get affordable quality eyeglasses.
The Pan-African Eyewear brand now serves patients in Kenya, Uganda, Ivory Coast, Burkina Faso, Mali, Benin & Togo, with 16 branches, and will be looking to open over 20 branches within the next 12 months.
"We are in the middle of an important expansion phase so it definitely comes with a couple of challenges, as we want to gain more notoriety in our markets and open many new branches with the same level of customer service."
With the Covid-19 behind, we've learnt a lot about improving our pan-African logistics and last-miles delivery to guarantee customers' satisfaction Jerome Concludes.