It's easy to make and packed with smokey-rich, creamy, sweet and tangy flavors topped with crispy bacon.
That's definitely a complement to any dish you side it with! Plus it's so good you can even eat it on its own! A great addition to your summer cookout!
Course: Side
Cuisine: Southern
Prep Time: 15 minutes
Cook Time: 45 minutes
Total Time: 1 hour
Servings: 3 -4 cups
Ingredients
4-6 thick cut bacon,1 medium onion diced chopped, ½ jalapeno diced, ½ bell pepper, diced, 1 can (12 oz) pork and beans no drain, 1 can (12 oz) red kidney beans drained and rinsed, 1 can (12 oz) pinto beans drained and rinsed, 1/2 cup (4 fl oz) bbq sauce, 1/2 cup (4 fl oz) ketchup, ½ tablespoon (7.89 g) mustard, 2-4 tablespoons (15-30 g) brown sugar, 2 teaspoons (11.20 g) Worcestershire sauce, 1 tablespoons (20.12 g) molasses, 2 teaspoons cajun seasoning, 1 teaspoon garlic minced Pepper to taste

Instructions
Preheat oven to 350 degrees F. If desired or using bacon, cut into 3-4 strips, then par cook for about 3 minutes. Do not cook the bacon until crisp because it will continue cooking in the oven. Remove and set aside.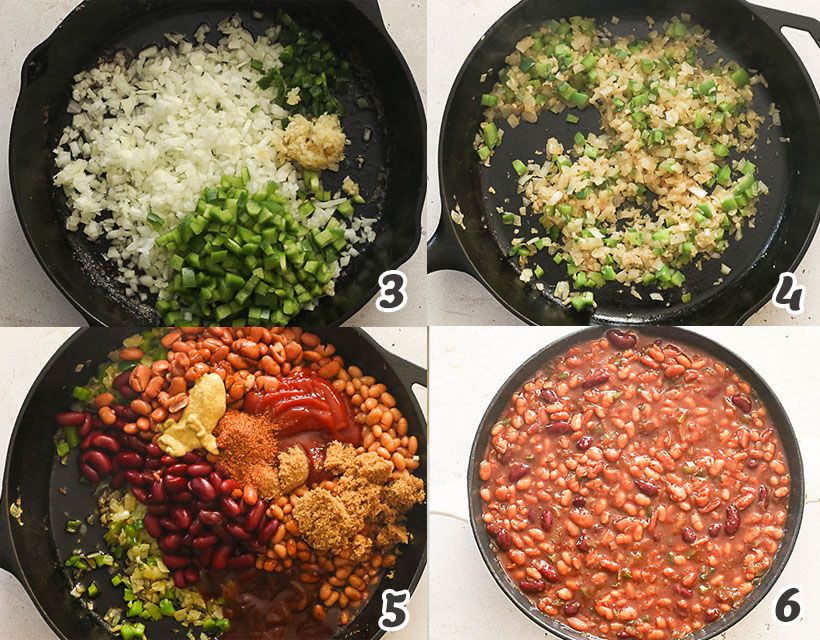 Drain oil and leave about 2 tablespoons bacon fat (replace with cooking oil), then add diced onion, jalapenos and bell pepper.
Saute for about 3-4 minutes until translucent. Add pork n beans, red kidney beans, pinto beans, bbq sauce, ketchup, mustard, brown sugar, Worcestershire sauce, molasses, Cajun seasoning, minced garlic and pepper to taste . Quickly stir until all the ingredients have been fully combined.

Pour the beans into an ungreased 9 x 13 baking dish, then top with par-cooked bacon and bake uncovered, at 350 degrees F about 35 to 45 minutes, or until bubbly. Do not over cook.