The National Council of Persons with Disabilities (NCPDK) has revealed that the decision to avoid printing ballot papers with Braille features was meant to safeguard voters.
The council said that in polling stations where persons with visual disability were two or three it would expose them as it will identify whom they voted for.
"This was an engagement we had with IEBC and our members stated categorically that they will be at risk, so it was agreed that they will just come with someone they trust," said Disability Service Officer and Member of DICC/IEBC Manyonge Simiyu.
He further added that IEBC did not deliberately leave out printing of Braille Ballot Papers.
"The visually impaired had their fears on having the Braille Ballot Papers and had also raised the concerns to IEBC," he added.
He was speaking after the Council collaborated with Ushahidi, a Nairobi-based tech company that empowers people to raise their voices, to raise voices of persons with disabilities during the Kenya August 8th General Elections.
Addressing the media on Friday, NCPDK Executive Director Harun M. Hassan said the collaboration with Ushahidi in implementing its election monitoring inititiave-Uchaguzi- aimed at empowering ordinary Kenyans to protect their vote by sharing real-time information around the elections and escalating it for response and action.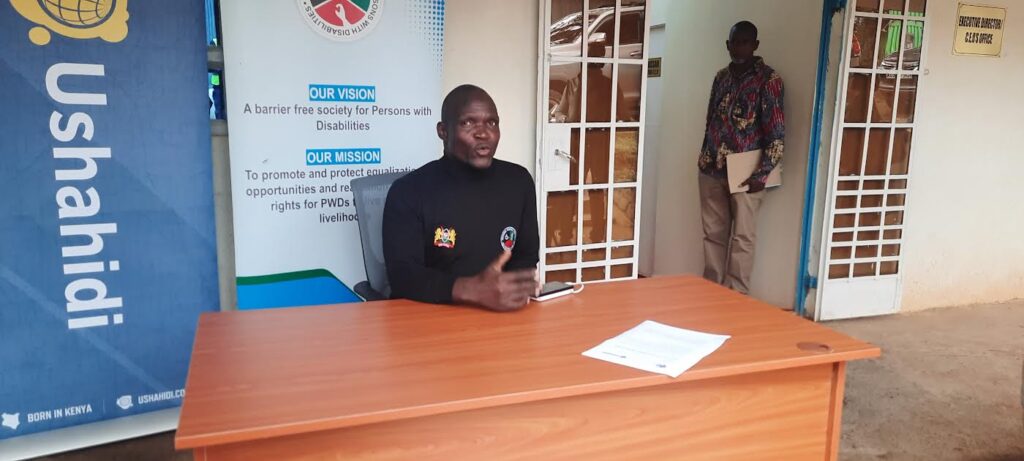 He said the Uchaguzi initiative is implemented through a broad network of civil society around Uchaguzi as the national citizen-centric electoral observation platform that responds to citizen observations.
'Uchaguzi is coordinated through uchaguzi.or.ke which enables citizens to report, with any technology available to them, any incidents significant to the election,' Hassan said.
NCPDK Executive Director Harun M. Hassan (R) together with Ushahidi's Executive Director, Angela Oduor Lungati during the signing of the collaborastion at NPDK Headquarters Nairobi on Friday 5th August 2022.
He further said that the information is then forwarded to relevant authorities such as the police and the Independent Electoral and Boundaries Commission, IEBC, and civil society organizations for early and targeted crucial action where necessary.
Hassan added that their initiatives will complement what IEBC has been wanting to do before, during and after elections. The Council's Toll free numbers are *603#, SMS UCHAGUZI TO 23102.
On her part, Ushahidi's Executive Director, Angela Oduor Lungati, who was present during the signing of the collaboration at NCPDK offices in Nairobi said:
'We welcome this collaboration with NPDK as we continue to mobilize Kenyans irrespective of their gender, ethnic background, religion and those abled differently to be directly involved in protecting their vote this election by sharing their concerns regarding the elections through our Uchaguzi 2022 communications channels: toll free USSD *603# and toll free SMS n umber 23102.'
NCPDK Executive Director Harun M. Hassan (R) addresses the media.
She further said that through Uchaguzi 2022, they hoped to keep Kenya's foundation solid and resilient by amplifying citizen voices.