This is one of the most iconic real estate projects by Optiven limited in Nanyuki town that has attracted massive support from both the National and County government.
Located in Nanyaki, Great Oasis Gardens – Nanyuki is the Skyline project by the company as it has amazing sceneries that include; a clear view of Mt. Kenya & Aberdare Ranges, and Lolldaiga Hills.
It's also a nearby wildlife conservancy (ranch) that offers you (investor) a rare opportunity to view rhinos, cheetahs, and giraffes, amongst other wild animals.
Speaking to the Media, Optiven Real Estate founder George Wachiuri has said that Investments in the real estate sector can take many different forms such as land, residential, commercial, retail, industrial, and mixed-use developments.
He said that the company has set an elaborate infrastructure for all and they are transformed to fit the market standards.
He said that Kenyans should not allow the opportunity at great oasis pass as it is located only 10 minutes from the famous Cedar Mall and 8 min from Nanyuki training and referral hospital.
In addition, the land is 7 minutes from British Army and directly opposite Mt Kenya Holiday homes and slightly before Ol Pejeta Conservancy's main entry gate.
He said that the land is unique in the construction of hospitality amenities such as hotels and other uses.
"How about buying a huge piece of land at the Great Oasis Gardens by Optiven? This unique project is located along Nanyuki-Rumuruti road. Buy & Build a WORLD CLASS HOTEL that will give you the best return on investment!," Wachiuri said.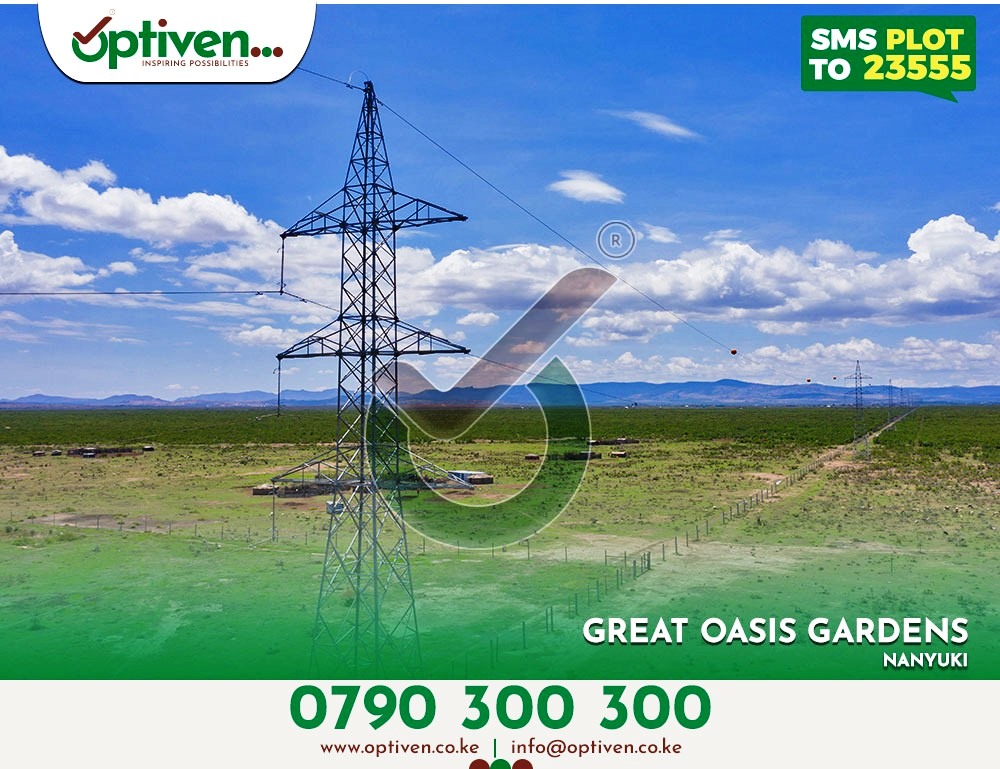 He said that the hotel industry is the leading sub-sector in the tourism sector and it is envisioned to deliver under the 10 percent annual economic growth as projected in the Kenya Vision 2030.
He said that the land is strategically located in a cool place and with the construction of the Nairobi-Kenol-Marua Road, the Nanyuki railway and massive county infrastructural development, The Great Oasis Gardens – Nanyuki is simply a SURE BET.
Wachiuri further said that among the infrastructures that they are putting in place include borehole water, elevated water tank, Murram roads, marking of fences, and a theme Park (a replica of what Optiven has done in Kitengela – www.funplace.co.ke).
He further announced offers to anyone who will pay within the set time frame.
Property Offered:
Option One – 1/8 Acre Plots
Ksh 349,000 cash in 30 days
Ksh 359,000 cash in 3 months
Ksh 369,000 cash in 6 months
Ksh 399,000 cash in one year
Option Two – 1/4 Acre Plots
Ksh 680, 000 Cash within 30 days
Ksh710, 000 Cash within 3 months
730, 000 Cash within 6 months
760,0000 Cash within 12 months
Option Three – 1/2 Acre Plots
Ksh 1, 300, 000 Cash within 30 days
Ksh 1, 339, 000 Cash within 3 months
Ksh 1, 380, 000 Cash within 6 months
Ksh 1,450,000 payable in one year
Option Four – 1 Acre Land
Ksh 2.5M cash purchase payable in 30 days
Ksh 2.6M payable in 3 months
Ksh 2.65m payable in 6 months
Ksh 2.8M payable in One year
Option Five – 5 Acres Blocks
Ksh 12.5M payable in 30 days
Ksh 13M payable in 3 months
Ksh 13.25M payable in 6 months
Ksh 14M payable in one year
For more information, Call/WhatsApp us on 0790 300300 or visit www.optiven.co.ke