By Isabella Maua
After the controversial unveiling of Bungoma Deputy governor amidst mixed reactions and tension from the former Deputy's supporters, the deal was on Sunday sealed as Hon. Hillary Chongwony officially joined governor Wangamati of DAP-K party.
Despite the fact that Mt.Elgon is a UDA stronghold, the supreme council of Elders were pro the decision citing despise and betrayal from Senate Speaker Lusaka.
Henry Chebet, member of the Supreme Council narrated that they had had several meetings with the Speaker and agreed that Chongwony would be given back his position as DG only for him to announce a different person at the eleventh hour.
"We fully support Chongwony to join hands with Wangamati so that we can teach a lesson to any cunny leader who thinks they can disrespect and dishonor our wish," he lamented.
In a ceremony attended by Chongwony's supporters across the mountain as well as County Chief Officers,among other dignitaries, Wangamati expressed his dissatisfaction regarding Lusaka's decision and promised to walk with former DG.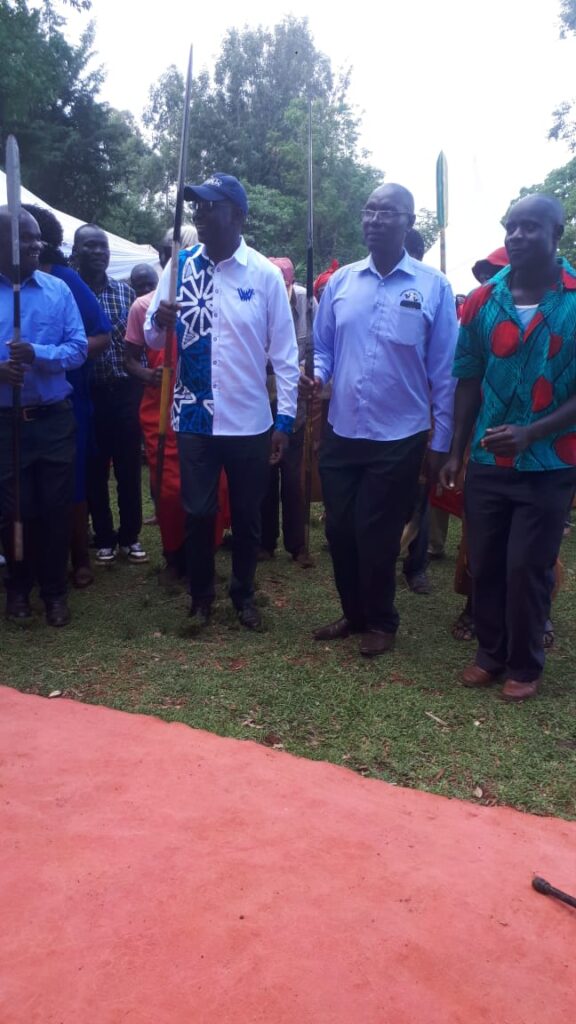 "I was sad to say the least on learning that Lusaka had left out his loyal deputy who stood by his side at all times, I come here to console my great friend and not just a political ally," the governor stated.
Speaking at the forum, former DG accused Lusaka of not being transparent and honest in his undertakings, confessing that he had been assured of getting back his position but was later short changed.
"I'm not jealousy of Lusaka's choice to give Jennifer the DG position but I wish he would have been honest with me, he even contacted me requesting me to send him my details and even prepare my acceptance speech only to learn from social media that someone else had been given the position,"Chongwony decried.
The former principal also said he is ready to sacrifice so as to change the narrative of Sabaots being primitively taken for granted.
"I am ready to work with Wangamati not because of self interest but for the benefit of my people," he declared.
Among other agreements, Wangamati pledged to take care of pathetic feeder roads besides completing and operationalizing the High Altitude Training Centre which has become a white elephant.
"My government will buy more land to extend the training centre and ensure it is fully operational to continue nurturing the talents within, roads will also be improved and Masaek market shall be expanded at least before I finish my tenure," the governor promised.
Also in attendance was Victor Rotich, one of Wangamati's DG hopefuls who applauded Chongwony's deviation and welcomed him to their camp.
Despite the fact that he wasn't given the DG position by governor, Victor confirmed his contentment with Nangalama taking the seat citing tramsparency and honesty in the exercise.
"Myself together with those who were left out are supportive of governor's choice and we extend an olive branch to Chongwony so that we can work together to write off the narrative of gullibility and naivity among Sabaots," Victor reiterated.
The elders on the other hand assured Lusaka that his bedroom is on fire and the ground is now slippery amidst embers of fire.
"It is the last time a leader disrespects us and goes against the Sabaot leadership structure, not only is it going to be chaotic but it is already messy," one of the elders disclosed.
Conclusively, former DG dismisses the fact that he is a quiet person who lacks ability to push agendas.
"I might appear quiet but I know where, how and when to hit, it is just the beginning and I assure my people that the mountain will once again feel my impact from the other side," he affirmed.