By Michelle Anzaya
Many if not all ladies' dream is to have radiant and glowing skin. Fortunately mother nature was kind enough to grant this wish through her priceless gift; the rose flower.
We all know a rose is the flower of love — luxurious, fragrant and eternally romantic. But this iconic bloom is more than just a pretty face. It's also an amazingly effective skincare ingredient, known for its nourishing, skin-soothing properties.
Rosewater is created by distilling rose petals with steam and has been used for thousands of years, including in the Middle Ages. It's thought to have originated in what is now Iran.
There are innumerable benefits of rose water for skin, and it's actually been used for thousands of years to keep people looking youthful and refreshed. And, since roses are natural, it's skincare at its best!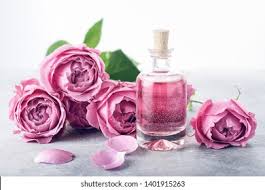 Rosewater balances the skin's natural oils. It is known for its ability to clarify and balance your skin, leading to a refreshed, revitalized appearance.
It can help reduce the look of temporary redness. Should some redness flare-up on your skin, rose water can actually lessen its appearance — and any accompanying discomfort. It's a great way to cool and calm your skin. It helps to naturally hydrate.
Rosewater has the advantage over many other botanicals for its lovely scent. It can help prevent fine lines and wrinkles and diminish the look of existing ones. In any case, who doesn't love the sweet, subtle fragrance of a rose? More so on your skin; pure bliss.
Moisture is key for youthful, glowing skin, and rose water is a natural hydrator. It gives your skin an instant, refreshing boost and provides rejuvenating moisture. It has antioxidant properties that nourish and protect the skin.
Rosewater is known for its ability to help people defy age. It can temporarily plump fine lines and even help to prevent new ones from forming. It can also help to unclog pores and create a smoother-looking appearance. When your pores get clogged up with everyday residue and toxins, rose water can help to decongest them and clean impurities for a fresh, bright complexion. It, therefore, minimizes the appearance of large pores.
It can temporarily tighten skin. Rosewater can actually help to diminish the appearance of those pesky large ones. It has cleansing properties that both clarify and balance. Thanks to its toning properties, rosewater can temporarily tighten the look of your skin, giving you a firm, plump look.
Rosewater provides a clean base for nutrients. It can help to remove impurities and set your skin up for success. It cleanses and leaves skin looking luminous, making it an excellent addition to your natural skincare routine.