Samidoh, Waweru Uyu, 90K, and Kajei Salim are set to entertain Mugithi lovers next week on Wednesday and Thursday during an event dubbed Mugithi WA Optiven in Nanyuki.
The event is organized by Optiven limited to mark the launch of well serviced plots at Oasis – Nanyuki that the company is selling at affordable prices.
Optiven sells value-added plots by opening up virgin lands in the city's satellite towns or neighboring counties by transforming them with ready utility connections like electricity, water, and storm water drainage as well as access roads connecting to public transport networks.
Some of Optiven's housing projects include Amani Ridge in Kiambu, Victory Gardens in Kitengela, Garden of Joy in Machakos, Success Gardens in Murang'a, Peace Gardens in Nyeri, and others in Nanyuki, Thika, and Murang'a.
Optiven's divisions include Optiven Real Estate, Optiven Construction, Optiven Insurance, Optiven Homes, and Optiven Water.
On Wednesday, the team will tour places such as Karatina, Gatitu, Skuta, and Nyeri King'ong'o while on Thursday, Samidoh and the team will tour Kiganjo, Chaka, Narumoro, and Nanyuki environ.
"Let's meet, dance, and get happy as you invest. Accompanied by Samidoh, Waweru Uyu, K90, Kajei Salim plus entertaining dancers," Optiven statement read.
Optiven limited has also sponsored, Samidoh and his team to Europe tour where they will entertain their fans as well as market the company to international platforms.
Samidoh took to his social media accounts to congratulate Optiven CEO George Wachiuri for promoting talents and sponsoring their event.
Speaking to the Media, Optiven CEO George Wachiuri said that next week's event is part of the Corporate Social responsibility.
"Yes, all roads head for a site visit at the Great Oasis Gardens – Nanyuki," Wachiuri said.
He said that the plots are located just 12minutes from Cedar Mall and right on the tarmac.
"The Great Oasis – Nanyuki is the ideal place for you! The prices of the plots are from ksh349k with flexible payment options, "he said.
He said that the Optiven Mugithi tour is also aimed to empower the people to give them discounted offers that would transform their lives.
"We will all go there dancing as we Empower our people to own the most desired, well planned and big portions of land for Big investment and Big wealth creation in coming years," Wachiuri said.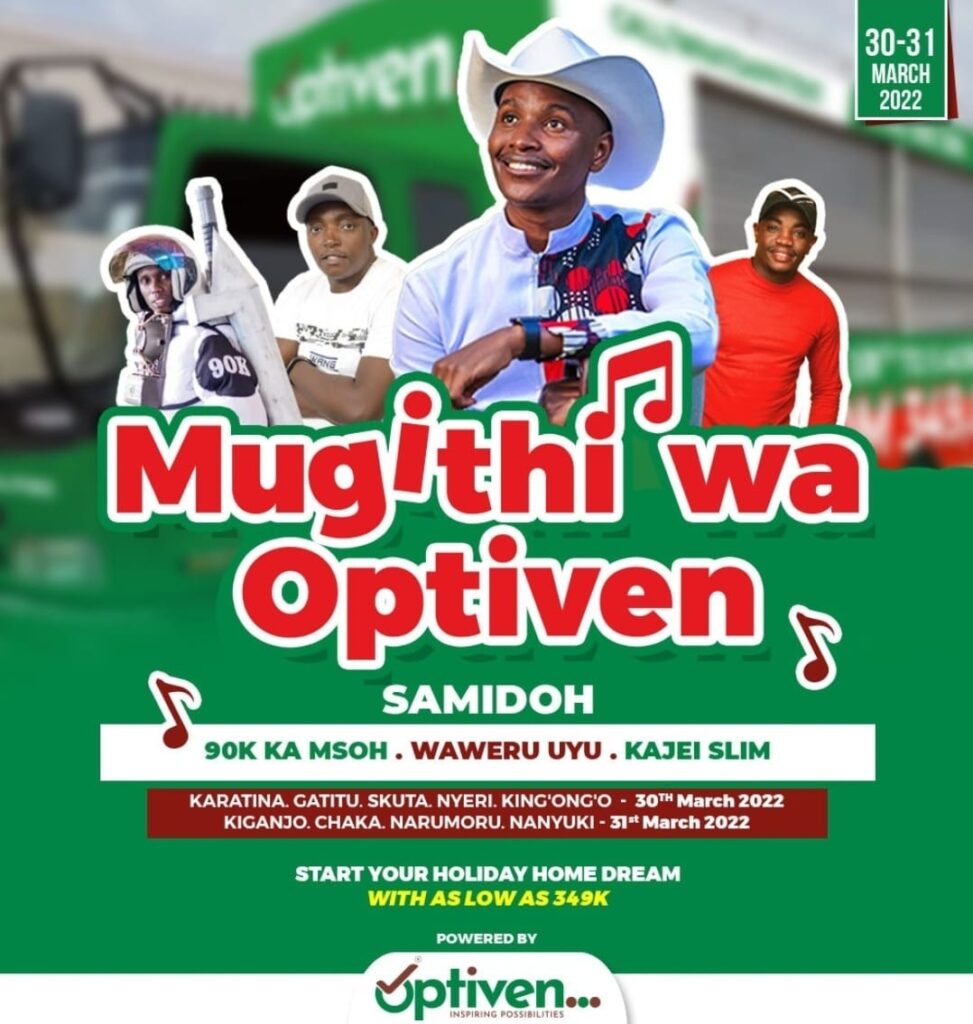 The company's success is evident in the multiple recognitions it has received for excelling in several areas of business.
In December 2019, Optiven Group was voted the best employer brand in Africa by the London Stock Exchange Group shortly after being feted as the best employer in East Africa at an award ceremony held in Dar es Salaam, Tanzania in June of the same year.
The same year, it also emerged as the best land agent of the year, the best value-added land selling company, and was given the financial inclusion award for most preferred and flexible payment and agent.
Optiven has won countless awards over the years including for Wachiuri who has on several occasions been named Africa business personality of the year.
In 2021, Optiven was awarded as the most admired real estate company by Mizani Africa.