Jamaican Oxtail Stew – This is an out-of-this-world delicious oxtail stew braised with butter beans in a flavorful deep gravy spiced up primarily with allspice, thyme, paprika, Scotch bonnet pepper, curry powder, and browning sauce. It's fall-off-the-bone tender.
A must-have!
Course: Main
Cuisine: Jamaican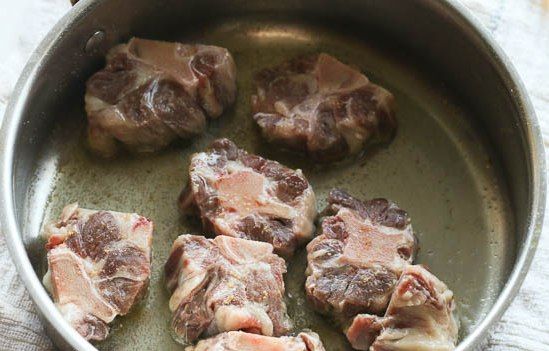 Prep Time: 10 minutes
Cook Time: 2 hours
Total Time: 2 hours 10 minutes
Servings: 6 people

Ingredients
2 -3 tablespoon cooking oil, 1- 2 pounds oxtail cut up medium pieces, 1 onion chopped, 2 teaspoon minced garlic, 1- teaspoon fresh chopped thyme, ½ teaspoon smoked paprika, 1 tablespoon ketchup /tomato paste,
1 Whole Scotch bonnet pepper
2 green onions chopped
5-6 Whole pimento seeds (allspice), 1 Tablespoon Worcestershire sauce, 1- teaspoon curry or more.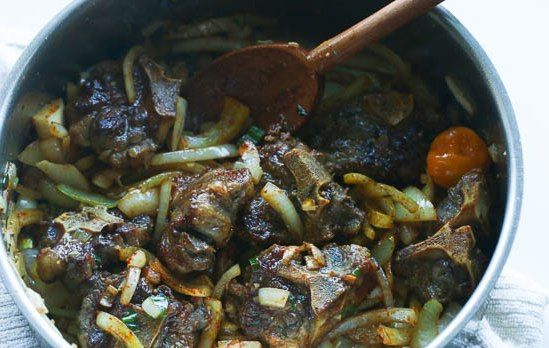 Adjust to preference 15 ounce( 425 grams) can butter beans , rinsed and drained 1 teaspoon browning (optional) 1 Tablespoon bouillon powder or cube (optional) Salt to taste
Instructions
Season oxtail with, salt and pepper. Set aside In a large pot, heat oil over medium heat, until hot, and then add the oxtail sauté stirring, frequently, any browned bits off the bottom of the pot, until oxtail is brown.
If desire drain oil and leave about 2-3 tablespoons Add onions, green onions, garlic, thyme, all spice, worcestershire,smoked paprika, stir for about a minute.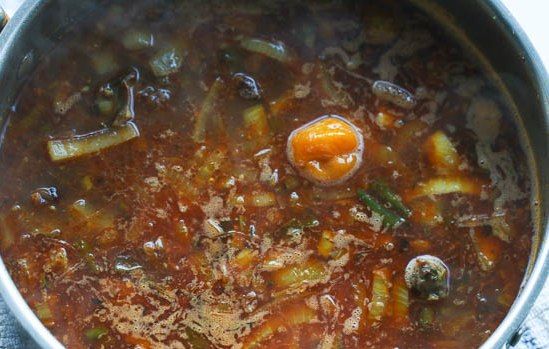 Throw in scotch bonnet pepper, tomato paste, bouillon and curry powder, stir for another minute. Then add about 4-6 cups of water , it's best to start with 4 cups , then add as needed.
Bring to a boil and let it simmer until tender (depending on the oxtail size and preference) about 2- 3 hours, occasionally stirring the saucepan. About 20-30 minutes before you remove from the stove add broad beans. Adjust thickness of soup with water or stock Season with salt according to preference.
Notes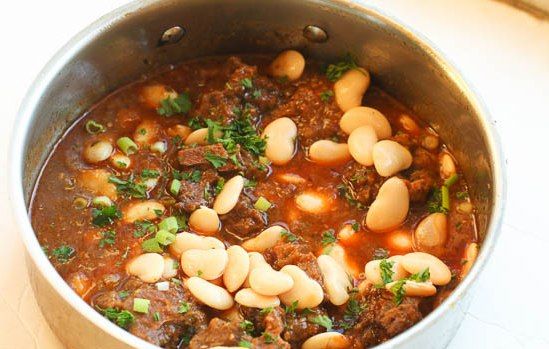 Want to marinate the oxtail before cooking? You can do so, especially if you have lots of time in your hand.
Just marinate it using minced garlic, minced thyme, pinch of curry, onions, salt and pepper. If you want a really dark color like the ones you would sometimes see at a Jamaican restaurant then go ahead and use browning sauce. Add the browning sauce after you saute the onions.
If you have particularly fatty oxtail be sure to spoon out the thin layer of fatty oil, about 1 hour into boiling. Not traditional but sometimes a necessity especially with non-organic cows.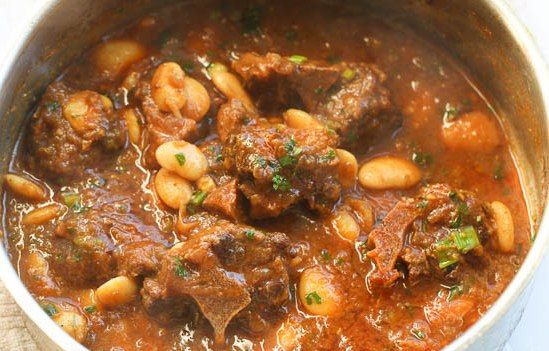 When simmering the oxtail stew for 2-3 hours, put the lid on. It helps to cook faster. If you only have the ground allspice on hand, you can swap a teaspoon of it for the pimento seeds. Scotch bonnets are very hot.
So leave it whole or if you're not a fan of heat, add it towards the last 5-10 minutes of cooking. You can find Scotch bonnet pepper in Caribbean and African Markets or sub it with habanero peppers. To thicken the gravy, add a few slices of potatoes and let it cook longer.
It usually just thickens up if you cook it longer. With that said, you can also use corn starch slurry towards the end with good results. Don't like adding beans? Feel free to omit it. Or replace it with veggies like carrots and potatoes, instead.